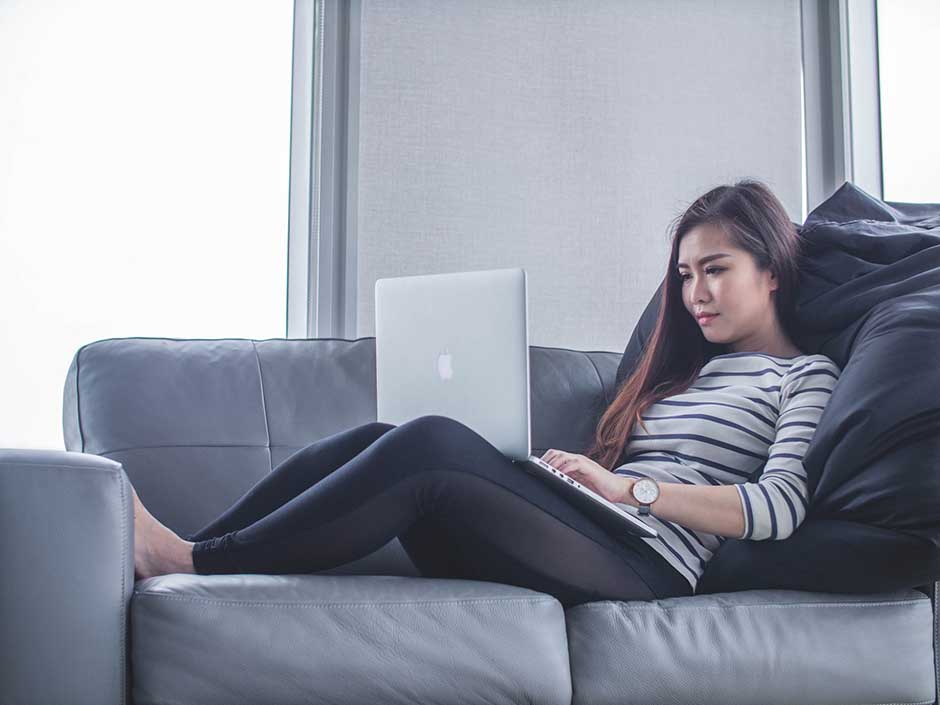 ---
They say first impressions last forever and when you're a virtual assistant or remote worker, that sentiment is magnified.
When it comes to remote work, it's not just language that matters; it's body language, the environment around you and even your appearance.
Whether you're aware of it or not, all these factors translate into your virtual presence and you will want to be on top of your game when it comes to conference calls and face-to-face virtual meetings.
Here are four important pillars to remember when you're working remotely and meetings with clients via video.
YOUR APPEARANCE
Sure, working from home means you don't have to dress up to go to work, but it wouldn't hurt to throw on some nice "work" clothes for your virtual face-to-face meetings.
We don't like to admit it but our appearance can sway opinions about us.
Keeping that in mind, if you show up to video conference call in a t-shirt and sweatpants, you're sending the wrong message.
A good rule of thumb when it comes to video conferencing or virtual meetings is to wear what you would wear to a meeting in the office.
That isn't to say you can't wear sweatpants and a t-shirt the other 80 per cent of the time, but it's important to look the part when it matters most and you want your clients to know that you're a professional.
ENVIRONMENT
As much as your clothing and appearance matters, so does your work environment.
You must remember that you're working for someone else and your atmosphere could potentially reflect your work ethic.
If your desk is super unorganized with garbage and clutter, it might make your client think twice, whether that's right or wrong.
If you're a disorganized person, that's fine!
But perhaps find a different area to do your video call from.
If you have kids or pets, close the door and ensure you have a quiet space with no distractions.
Sure, some clients might be patient and think it's cute but many might get annoyed if their time is being disrupted by someone or something else.
Perhaps create a checklist before your virtual face-to-face meetings.
Is it tidy? Is it quiet? Will my client be able to see and hear me? If not, perhaps find a different spot to take the video meeting or do a 10-minute tidy.
YOUR BODY LANGUAGE
Body language matters, especially when you're doing a virtual video call.
Much like a meeting in a traditional office, you'll want to portray yourself as confident and happy to be there.
Even if you're not in the mood today for yet another meeting, it's best to appear as though you are 100 percent committed.
It's been said by academics that non-verbal cues make up 93 percent of daily communication and about 55 percent of that is body language, with another 38 percent being based on the tone of voice.
In fact, psychological researcher Professor Albert Mehrabian says that leaves only seven per cent of communication being actual words.
Your posture. Your hand gestures. Your eye contact.
It all matters, and there is a lot more to it than meets the eye – literally!
Your body language speaks volumes, so here are a few aspects to keep in mind when you're meeting remotely:
Facial expressions – Smiling is key, but a genuine smile is best. Be careful you're not frowning or smirking while other people talk.
Eye contact – Eye contact exudes confidence, but don't overdo it! Too much eye contact can sometimes be intimidating to others but digitally, it's probably okay to gaze a little longer.
Hands and hand gestures – Try not to over-exaggerate your hand motions, it can be distracting and for some, it's annoying, too – especially when meeting virtually.
Upper body – Don't fidget with your pen and don't cross those arms! Upper body also includes posture, so don't forget to sit up tall and confident.
LANGUAGE AND CHOICE OF WORDS
It's important to speak clearly and concisely, especially when working virtually because you want to ensure the person or people on the other end of the video can hear you.
But it's not just the volume of your words, it's the words you choose and language matters, especially when working virtually.
Sometimes when we don't work in an office and we are talking virtually via a video on our computers, it may be easy to forget there are actual people on the other end.
That may lead to us speaking more casually than we intend, or not putting any thought behind the words we choose.
We must be careful not to use words with a negative connotation.
That means instead of saying "I can't", perhaps saying "I will try" instead.
Negative words have a lasting effect and you want to appear positive with a can-do attitude.
It's also about speaking with clarity and a good tip is to pause before you speak, gathering what you want to say mentally, before you say it.
Ultimately, video meetings are just snippets of your work but it's important to let your client know that you're a professional on the other end of the computer.
Whether it's your work environment, your language or body language, they want to know that you are confident and productive, so putting a bit of effort into your virtual meetings can go a long way.
---
If you're looking for a community of like-minded peers, then you've come to the right place!
Click here to check out the Academy, where we help you develop, or build on, the skills you need to start and run a successful virtual business.
Then click here to join our private Facebook Community, where we talk about the tough stuff, the business of doing business, and support each other as we all make this virtual journey together.
Click below to get started today!
See you on the inside.