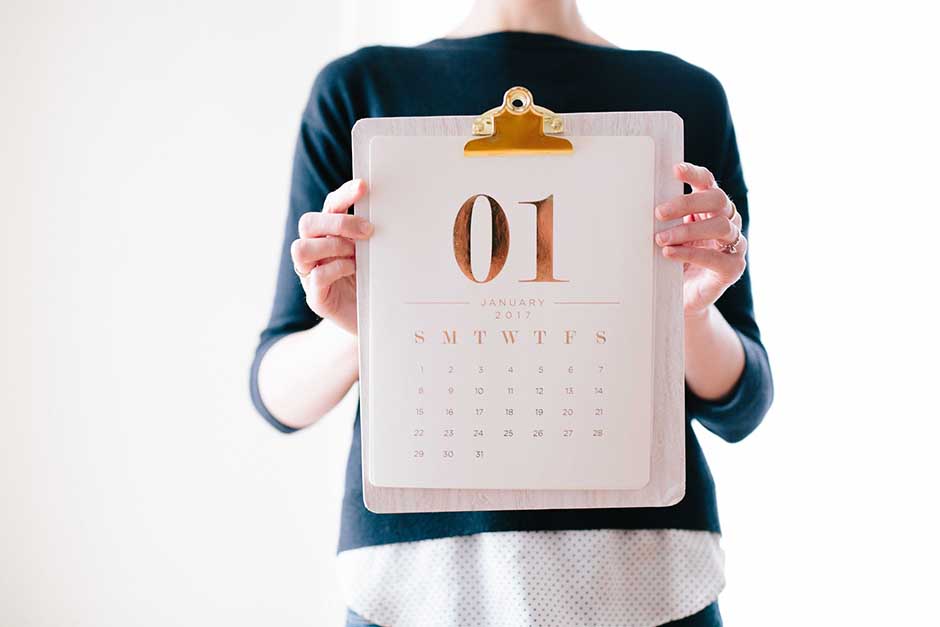 You've heard the saying "a New Year, a New You" but I'm here to tell you that you don't need a "new" version of yourself to be successful in 2019 - you just need an improved version.

That's not to say only YOU need to improve yourself or be better, but EVERYONE should better themselves to reach their goals. Success stems from people who continually challenge themselves to grow and the new year is a great time to put some action into place to achieve your goals.
American writer William S. Burroughs once famously said "When you stop growing you start dying," and many people follow those words to this day.
So, with one month to go, what can you do to better yourself and and transition into 2019 already in stride? Here are five tips to start your new year - and improved you - with a bang.
The Purge: New Year's Edition
Don't worry, this purge won't end in bloodshed like the movie franchise but it will end in a tidy, organized and rejuvenated home/work/life environment. Whether you need to organize your closet, your work desk, your junk drawer or even your personal relationships (more on that later), there's little that feels better than giving your atmosphere a refresh.
It's amazing how something as simple as de-cluttering your life can make you feel more refreshed emotionally, mentally and physically. If there is a big task you've been putting off, why not do it before (or during) the holidays and start your new year off with a clean slate - literally.
This will help you hit 2019 with focus when you don't have to worry about a disorganized home or life, and this simple task can trickle into simplifying your life. in other ways, too.
Start a New Project
Whether it's starting a journal, writing the book you've always wanted to, taking up a new hobby or joining a gym, start something new that will improve an already great you. We all have a mental list of "I wish I could's" that "we can" do and the only thing stopping us is ourselves.
Instead of putting this off until January, why not sign up for that gym before the big resolution rush, or perhaps write down some ideas for your book. Once January rolls around, you will already be in full stride when others are just starting theirs.
Need some ideas?
You could always start a "read a-book-per-month" challenge for 2019 and get your friends and family to join in, too.
Perhaps you could start a journal and write down things that motivate you or create a 2019 bucket list of one activity or task each month you want to accomplish.
The possibilities are endless and this pushes you to "say yes" to new experiences instead of saying "I can't."
Adopt a New Habit
Most of us wish we could maybe get up a little earlier, go to bed a little earlier, cook and eat at home more often or simply find more time for family.
Guess what? We can.
When the calendar turns to January, people tend to make resolutions that they often don't meet.
That's why we won't call it a New Year's resolution.
Instead, choose a new habit that you can start now and carry over with you to January and then February and then March and… you get the picture.
Stick with it though. It's been said that it takes 30 days to develop a new habit, so you have just enough time to adopt this new habit into your routine and hit January in stride.
Best part?
You don't have to call it a New Year's resolution, it's just a good habit that improved your chances for success.
Focus on Enhancing Personal Relationships
This could mean many different things to different people but whatever it means to you, take action.
Whether you know you need to spend more time with your family, less time on your phone when you're with friends or or even just practice better conversation skills, we could all inject a little more energy into our personal relationships.
Time with loved ones is one thing many people look back on and wish they had more of, and you don't want to be that person.
The holidays are a perfect time to show your family and friends how much you care about them just by being more invested in your relationships with clarity and purpose.
Learn a New Skill or Take a Course
Lastly, but certainly not least, why not learn a new skill or take a course to end the year and start 2019 one step ahead?
Many people choose to wait until the New Year to start personal development improvements but we believe learning and growing doesn't adhere to a calendar.
Learning should be something that happens all year long, and there is no better place to start developing that new habit, than with our very own Virtual Gurus Academy!
It's pretty obvious that we are huge advocates for learning, growing, and strengthening skills which is why we created the Academy in the first place. We want every member of our community to succeed, which is why we are listening to what you want to learn about and are incorporating your requested topics into our course roster.
We are adding new courses every month so if you are committed to your ongoing learning then we are committed to teaching you what you want to learn.
[click here to go straight to our Academy course list]
One last thing; As we turn our attention to a new year and an improved us, there's no reason we can't look back and reflect on the good, the bad and the ugly over 2018 and grow from it.
Every challenge we face in life provides a valuable learning experience to improve ourselves, so let's start 2019 as the best version of ourselves.
---
If you're looking for a community of like-minded peers, then you've come to the right place!
Click here to check out the Academy, where we help you develop, or build on, the skills you need to start and run a successful virtual business.
Then click here to join our private Facebook Community, where we talk about the tough stuff, the business of doing business, and support each other as we all make this virtual journey together.
Click below to get started today!
See you on the inside.