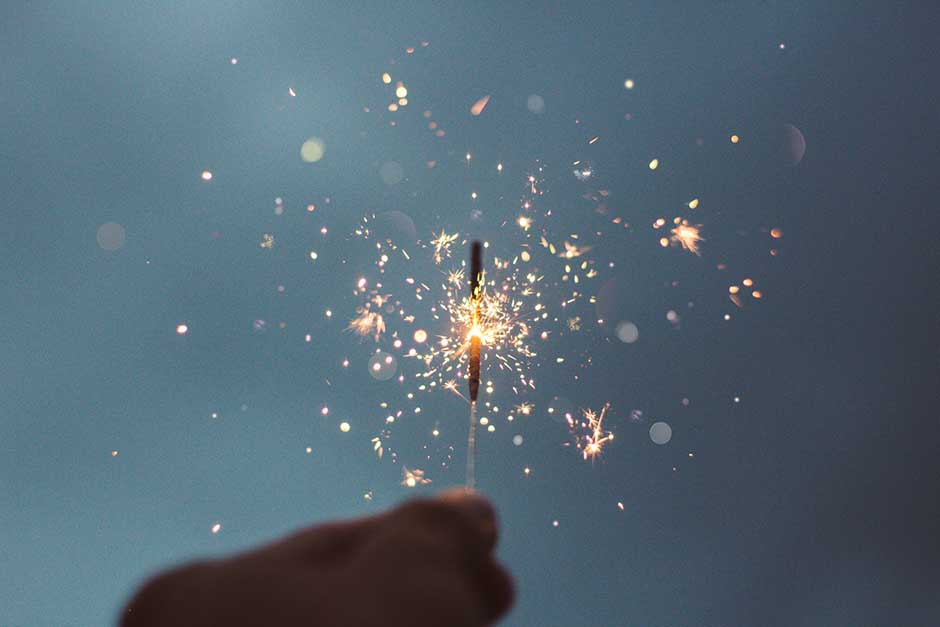 Unlike working in a traditional employer/employee scenario, if you run your own virtual business, then it might come as a surprise to some of you that you are in charge of your time off.
No one to ask for permission, no paperwork to fill out or a boss to ask about which days you can have off and what your holiday coverage times will look like.
Crazy, right? Just..."take time off!"
While this can be incredibly exciting at first, the reality of making your own schedule can quickly become daunting - it's all you, your decision, your responsibility, your priorities.
Sure, you could just close up shop for the month and resume the status quo when you return in January but, in reality, could you really do that?
Alternatively, you could do what a lot of business owners end up doing each holiday season and thats work through the entire thing!
Luckily, there is a happy balance between these two extremes.
If you truly want to be an outstanding virtual assistant (or remote worker) then all you need to do is create a plan and communicate it!
Plan Out Your Personal Calendar for December and January First
One of the first things you want to do is take a look at your personal calendar and identify the dates/times that you want to keep free for time with family, friends, holiday events, and rest.
While it may sound counter-intuitive to plan around your personal calendar, when you do it this way you are ensuring that you have scheduled the important things in your life first - and build work around that world.
The way that most business owners plan their calendars is business-related items first, and then try and squeeze in a personal life after (and we all know how that typically works out, don't we?).
So take out that calendar and get to blocking.
Here is an example of what my calendar usually looks like during the holiday season:
Now of course you will also want to add in details of any special events that you are attending, and plan how you will work around these types of appointments, but always start with what you are doing personally, and then look at what you need to do professionally.
Plan Out Your Business Calendar for December and January Next
Now that you have blocked off all of the personal appointments that you will be attending, the next thing you want to do is have a discussion with your client(s) to see what their operations will look like over the holiday season.
You need to know when they will be away (if at all) and when they will come back.
Of course, you will also want to know what their expectations are of you during this time, so it's important to have that conversation with them as early as possible.
In fact, if you are able to build in your availability into your Communications Governance when you first set up your contract with them, even better!
Learn more about creating a Communications Governance in our VA101 Course.
Communicate With Clients Proactively
You'll notice in the example that I've provided that I proactively reach out to my clients at the very beginning of December so that I can ensure that everyone is on the same page, and so that we all know who is going to be where and for how long during the festive season.


In addition to that, I've also created a plan for 'emergencies' during the holiday season, so that if anything were to go wrong, we all know who needs to do what and when!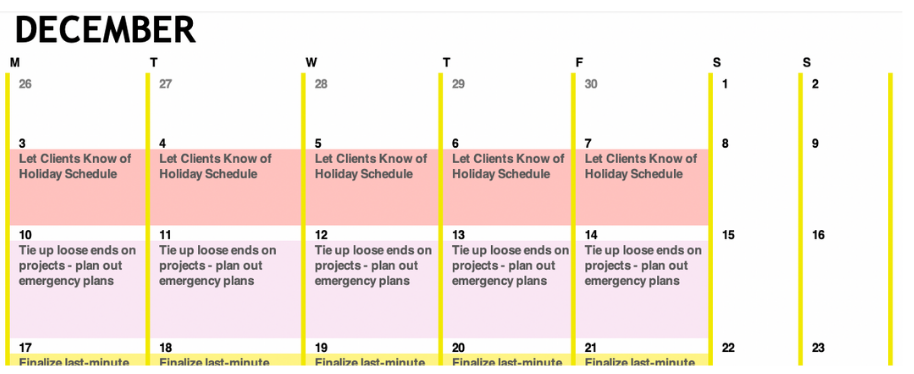 For example, if you are providing website support to a client, what is the plan of action and process if the website goes down during the end of the year?
Who is going to be accountable for monitoring and taking action on fixing the situation? Who is notified? What happens if it is resolved (send a quick update) and what happens if it can't be resolved (emergency back-up plan).
While it's not fun to think about what could go wrong, and to discuss the risks associated with a large portion of a business being away during the holiday season, it's better to be prepared and not need to use the emergency plan, than to be caught without any plan in the first place.
Everyone Is Back in Action!
At the end of the holiday season, most people return to regular operations the second week of January.
Which is why you want to have a proactive 'Happy New Year Let's Get Started' plan in place with your clients around this time.
Tip: Try to stay away from booking meetings and planning strategy sessions the day after New Years….that's not fun for anyone. Let people get back and get settled in before we try and hit the ground sprinting.
You will see from the example that I've shared that the only thing that I send out prior to that second week of the year is a notice that we are going to be back in action (on the 5th below).
After that I begin to work through the pre-scheduled 'back to work' meetings with clients so that we can start the planning and ramp-up process for the normal operations the following week.

Go Enjoy Yourself!
The main objective around planning for the holiday season, is to ensure that everyone knows what will happen during the time away, and to also ensure that if work has to be done, that it's done in a way that fits everyone's schedule.
The last thing you want to happen is you working in between bites of a family dinner, or taking a meeting on your cell-phone while you watch your kids ski down a hill.
So take a little the time to plan out your season and, more importantly, enjoy it!
Happy Holidays :)
---
If you're looking for a community of like-minded peers, then you've come to the right place!
Click here to check out the Academy, where we help you develop, or build on, the skills you need to start and run a successful virtual business.
Then click here to join our private Facebook Community, where we talk about the tough stuff, the business of doing business, and support each other as we all make this virtual journey together.
Click below to get started today!
See you on the inside.